MLS Cup final 2021: Portland Timbers v New York City FC – live! | Foot…
6.00pm EST18:00
111 min: To save time, I'm looking ahead to kicks from the mark, the referee's way of saying "penalties."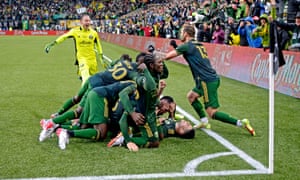 Goalkeeper Steve Clark, nevertheless up the field, joins the celebration after the Portland goal. Photograph: Troy Wayrynen/USA Today Sports
5.56pm EST17:56
108 min: I should concede the email from Gareth Rogers: "The ref swallowed his whistle. Clear foul."
I would concede the exceptional attacking play on the field right now if there was any to concede.
5.54pm EST17:54
106 min: The second session of additional time is underway. NYCFC took advantage of the break to complain some more.
To be sure, NYCFC had the better of play for about 80 minutes. And it wasn't close.
5.50pm EST17:50
105 min: additional time so often disappoints, doesn't it? We've had a associate of Timbers chances, at the minimum.
Last information on the non-call on the equalizer, I think:
Doug Marshak (@vetshak)
I have told hundreds of players in the same situation as Chanot, if you want that call then you have to go up for the ball. Stand there waiting for it to come down and an opponent jumps over you, I'm not calling that. Show me you want to win the ball.
5.46pm EST17:46
100 min: And now Valeri has a chance to put Portland ahead, thanks to a ball dropped to him by Yimmy Chara at the top of the 18. He puts it high.
5.44pm EST17:44
98 min: Valeri goes to work on the touchline. Cleared, but Portland gets another free kick, and Valeri will take it. The ball drops to the far post but isn't turned on frame.
5.43pm EST17:43
96 min: Neither team in control at the moment.
From Twitter, from a high-up USL official who's been in the game forever, regarding Clattenburg's comments:
Nicholas Murray (@NJEMurray)
No, he said MLS sets a higher bar on overruling on-field decisions by VAR, less inclined to go to the screen.
Good clarification. But given the EPL's continued bungling of VAR, isn't that worse?
5.38pm EST17:38
93 min: Paredes with a long shot for Portland, powerful but too close to Johnson, who holds it well.
5.37pm EST17:37
Mark Clattenburg, continuing to make people surprise if the real referee named Mark Clattenburg has been beamed to another planet and replaced by an alien who will one day rule the planet, thinks he saw a foul. But MLS, he says, tends to have fewer foul calls. This from a guy from the land where it's not a foul unless someone needs X-rays.
5.31pm EST17:31
Niezgoda had the initial shot on a scramble in the penalty area. It's confined, but unfortunately for NYCFC, it falls to Mora, who coolly finishes.
NYCFC players, led by Chanot, are yelling at the referees. Yell all you want. Villarreal's performance with the whistle has been noticeable, and we're going to additional time.
5.29pm EST17:29
90 min +4: Portland goes direct out of necessity after NYCFC tries to deflate the ball. The Timbers win a corner. Goalkeeper Steve Clark races forward. The ball is cleared, and Clark plays the ball wide. Well done.
5.27pm EST17:27
90 min +2: A chant of "NYC" can be heard in Providence Park. That's shocking. Portland's fans ramp up the noise after a few seconds of that.
5.26pm EST17:26
90 min +1: Castellanos dives. Villarreal isn't interested. Portland goes forward. NYCFC fouls. Medina hoofs the ball to the sky and gets a yellow card. The Timbers will surely think, "Great, but can we have another 30 seconds?"
5.25pm EST17:25
90 min: We will play four more minutes, pending additional substitutions and dives.
5.24pm EST17:24
89 min: Valeri's turn up at the minimum perks up the uncharacteristically subdued crowd. Portland earns a corner, and it's cleared.
On the counter, Medina goes 1-on-1 with Diego Chara. Chara wins. He's arguably Portland's best player today.
5.23pm EST17:23
87 min: Villarreal ignores a frivolous NYCFC attempt to draw a foul at midfield. Portland's possession continues.
It appears Diego Valeri will indeed come on, but is it too late? At the risk of assuming too much, yes, yes it is.
5.20pm EST17:20
83 min: It will be Polish striker Jaroslaw Niezgoda, not Valeri, in place of Dairon Asprilla.
Another cross gets to Mora, and he makes good contact this time, though it's deflected for a corner.
The corner bounces out to Blanco, whose 25-yard scorcher is confined by a teammate's confront. That kind of day.
5.18pm EST17:18
82 min: CHANCE, the best for the Timbers by far. Yimmy Chara puts a free kick onto the penalty identify, where Felipe Mora is implausibly alone. He only makes slight contact, though, and Johnson covers up the ball.
Questions for Portland coach Giovanni Savarese:
Charles Boehm (@cboehm)
Down 1-0 at home, 10+plus minutes left in your season, three subs in your pocket and Diego Valeri on the bench. What's up, Gio?
5.15pm EST17:15
79 min: Castellanos shoots wide as NYCFC breaks the pressure, such as it is.
The visitors' Santiago Rodriguez gets a yellow card as he is substituted. Stopping to adjust your shin guards as you're leaving the field is not a good way of saying, "No, I'm not delaying the game."
5.14pm EST17:14
78 min: I can't make heads or tails of this, like the coins in my curling club that have "bear" and "queen," but it's seemingly another way of saying Portland's attack has been minimal.
Paul Carr (@PaulCarr)
Nothing for Portland in the middle of the attacking half. #MLSCup pic.twitter.com/FoNzyiLayX
5.12pm EST17:12
76 min: A shot on goal! A shot on goal! Jose Carlos van Rankin is left alone and puts in a diagonal shot to the far post. Easy save for Johnson, but the 0 is wiped from the stat sheet.
5.11pm EST17:11
75 min: Yimmy Chara, finally, gets a step after dispossessing an NYCFC midfielder. Maxime Chanot, who has been superb, intercedes, and a deflected shot lands in Sean Johnson's arms.
5.09pm EST17:09
74 min: The Timbers have a kickabout in their own half, as you'd expect from a team that's up 2-0.
What? They're down 0-1?
James Tyler (@JamesTylerESPN)
do the Timbers think there's a second leg
5.07pm EST17:07
72 min: Portland is stringing together more passes. But this possession goes nowhere, and the vaunted Timbers Army isn't making much noise right now.
5.06pm EST17:06
70 min: More crosses for the Timbers. nevertheless nothing on target, but it's mildly promising.
The crowd grows restless over an NYCFC "injury" that takes a while to clean up.
5.03pm EST17:03
68 min: Out of nothing, Portland gets a cross in front of Johnson, but the NYCFC defense expertly responds and doesn't allow a shot. The Timbers have nevertheless put nothing on target. NYCFC has five shots on goal.
5.02pm EST17:02
66 min: The action remains in Portland's defensive third. Unless someone fancies an 80-yard shot beating Sean Johnson, that won't do for the Timbers, who look as dreary as the persistent rain at the moment.
4.59pm EST16:59
62 min: Portland subs: Santiago Moreno replaces Sebastian Blanco. Cristhian Paredes replaces George Fochive, who should have been playing on a yellow card for the last 50 minutes.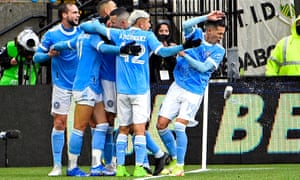 Jesus Medina reacts after being hit by a beer thrown from the stands. Photograph: Troy Wayrynen/USA Today Sports
Twitter's gonna Twitter, and plenty of people are calling out the complete Portland fan base over the beer thrown from the stands, but 99.9999% of Timbers fans are heartbroken to see someone do that.
Updated at 5.01pm EST
4.55pm EST16:55
60 min: Free kick, NYCFC, near the sideline. The first effort is cleared. The second effort ends with NYCFC foul, emphatically called by referee Armando Villarreal. For all our complaining about the without of cards in the first half ("murder" is the runaway winner on the poll asking where the threshold would be set), Villarreal has done well here.
Portland prepping some subs.
4.53pm EST16:53
58 min: Clark again is called into action with a good save to keep it 1-0. Portland goes the other way to earn a corner. The Timbers desperately need to make something happen.
4.52pm EST16:52
56 min: Rodriguez has a substantial shot from 22, but Portland keeper Steve Clark smothers it comfortably. Timbers fans must be asking why he couldn't have done that on the NYCFC goal.
4.50pm EST16:50
53 min: A shout for a penalty on a possible NYCFC handball in the 18 off a Portland corner. Play continues, so we haven't seen the replay however.
Now we see it — no. Ball is drilled off the defender's thigh and up into his arm. Good no-call. The coaches I ejected from an Under-14 youth game in the spring may disagree, but youth soccer coaches are not good authorities on the Laws of the Game.
4.47pm EST16:47
52 min: More on our projectile-thrower:
Portland Timbers (@TimbersFC)
The fan who threw the object was ejected from the game, and has been banned from Providence Park. There is zero tolerance for behavior of that kind.
by a wet camera lens, we see that Portland has earned a free kick to the side of the 18 — this time, a authentic foul. Have to say that the early rash of unkind challenges has mercifully ceased.
4.45pm EST16:45
49 min: Castellanos earns a free kick from 22 yards out as some of a Portland defender's leg hairs brush against his. Moralez clangs it off the bar. The belief is that Clark got a hand to it, and NYCFC has a corner kick that somehow eludes two onrushing attackers. More calamitous defending from the Timbers.
4.42pm EST16:42
47 min: Updates from ESPN sideline reporter Sam Borden — Moralez is fine, Medina is fine, and the rule perpetrator in the beer-throwing has been ejected.
Seems like there was more than one projectile, though. But maybe he grabbed his neighbor's beverage in addition.
4.41pm EST16:41
46 min: ESPN returns from halftime commercials just a second or two before kickoff.
4.40pm EST16:40
Sam Moses writes: "You're doing a great job. This email sent from the jungle in Sumatra 4 a.m., by a near-Portland resident, following the game on both livestream and your comments.
"P.S. I covered the first "Soccer Bowl" for Sports Illustrated, 1975, Tampa Bay Rowdies beat the Timbers. I was a rookie at SI, knew nothing about soccer, got the assignment because no one on the staff wanted it."
First off, thanks, and may the jungle treat you well.
Those of us of a certain age can relate to covering soccer because no one else would. Several of us old-ish-timers covered soccer in addition to our other duties because we felt our news organizations should be doing so, already if it meant we'd do it in our spare time.
The Zoomers tend to roll their eyes when you tell them that, though.
Updated at 4.41pm EST
4.37pm EST16:37
MLS commissioner Don Garber proves that the front-runner to be the 30th team in the league is Las Vegas.
That should be enough to divided the league in two tiers with promotion/relegation, right? **ducks**
4.26pm EST16:26
Halftime: Portland 0-1 NYCFC
The Timbers will want to shred the script from the first act here, with NYCFC on the front foot most of the half, punctuated by a clinic in poor defending near the end and a disgusting act by one or more projectile-throwing fans who are hopefully facing a lengthy ban from MLS stadia.
Portland has however to manage a shot on goal. As Real Salt Lake showed, you can improvement in the playoffs without doing so, but not if you concede.
Click: See details